Blue Elephant Copenhagen
Why choose us? Here are 9 good reasons.
1
HERE IS THE LOCATION.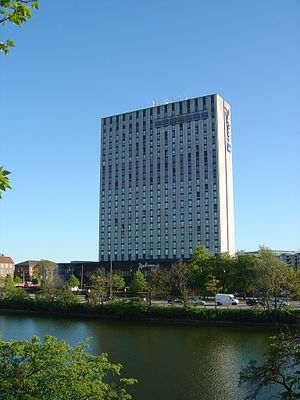 Restaurant BLUE ELEPHANT COPENHAGEN is located in fine surroundings at Radisson Blu Scandinavia Hotel. (find your way)
Opening hours:
Mon - Sat 17.00-23.00
Sunday closed!
2
FREE PARKING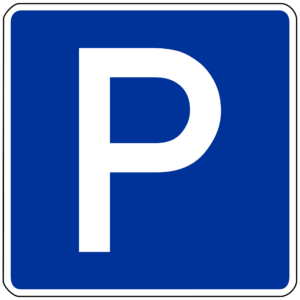 There is free parking in the hotel car park when you eats at BLUE ELEPHANT COPENHAGEN.
3
CLOSE TO METRO

Restaurant BLUE ELEPHANT COPENHAGEN is only 5 min. time from Islands Brygge metro station.
See the Metro's timetable here
4
AUTHENTIC THAI ATMOSPHERE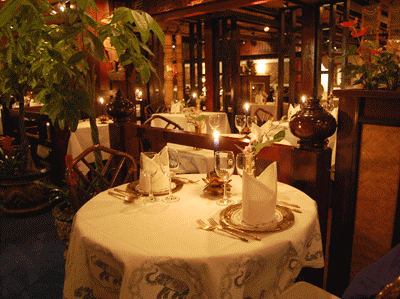 They enter a completely different world with green plants, fresh orchids and small rippling waterfalls.
The restaurant is decorated as a small village with three " houses " and a " marketplace ".

Beautiful antique Thai ornaments adorn the rooms. Thai servants in traditional Thai costumes welcome you welcome.
5
A ROMANTIC EVENING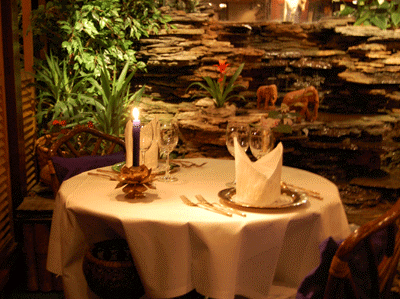 If you want to invite your sweetheart to a romantic dinner, is this the right place.
Dim lighting, candles on the tables, soft Asian music.

BLUE ELEPHANT COPENHAGEN is a true tributary on days like eg. Valentines Day.
6
A SPECIAL EVENING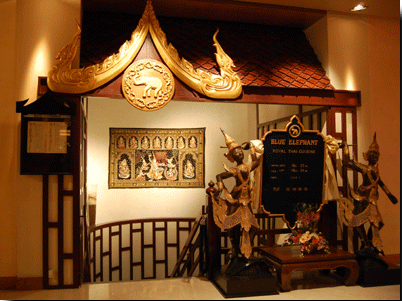 BLUE ELEPHANT COPENHAGEN presents various special events during the year.
Among other things. celebrating the Thai New Year restaurant, offers a special Christmas and New Year menu - or have an unforgettable evening with ROYAL PRINCESS NIGHT (Free admission to the Casino, + DKK 100 token, + Possibility of trial play. Dinner at Blue Elephant. RPN-Menu).
7
EXCLUSIVE THAILAND FOOD ART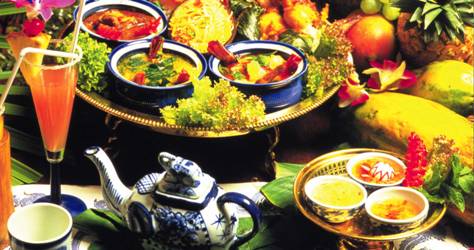 Thai cuisine has a tradition of artisans dishes, which you get ample opportunity to experience restaurant BLUE ELEPHANT COPENHAGEN.
The exotic dishes prepared by specially trained Thai chefs.
8
FRESH RAW MATERIALS FROM THAILAND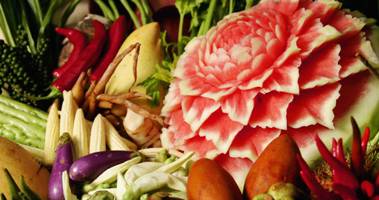 Thai Airways flies orchids, Thai fruit and vegetables directly to the restaurant from the Far East.
9
WE ALSO OFFER
PARTY
BLUE ELEPHANT COPENHAGEN is happy to reserve the entire restaurant for Your company.
Our restaurant is suitable for special events and we help to tailormade a unique evening for your guests.


BUTIQUE
It is possible to buy plates, bowls, jars, etc. of what we use in the restaurant in our small shop.
Review
Read an review of Blue Elephant Copenhagen here:
Gallery
Some pictures from the restaurant.
Address:
Radisson Blu Scandinavia Hotel
Amager Boulevard 70
2300 København S
Openng hours:
Mon-Sat:
17:00 - 23:00